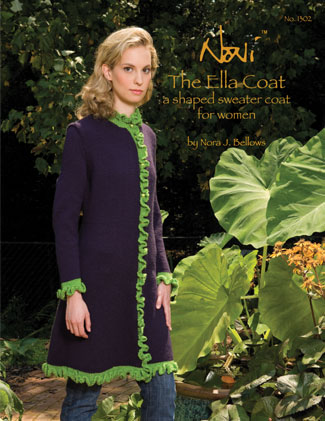 We just finished our Noni Knitalong for the Ella jacket!  Check out the new Ella Coat (picture above and also available in children sizes) by Nora J. Bellows.  Knitters dropped by and knit this jacket with Sudha, who knit this jacket for Saloni. There were many, many different versions of this jacket and you really should check out Nora's blog for more ideas on this jacket.
We at the store love this structured sweater.  We think it's perfect for the end of winter and beginning of spring.  The ruffles add a sense of whimsy and the pattern is basic enough it almost invites experimentation with colors.  For the icing on the cake, the A-line cut and slightly lifted waist on the jacket means it's flattering for most body types.
The pattern is ranked at intermediate to advanced, but we reckon any daring knitter could manage it.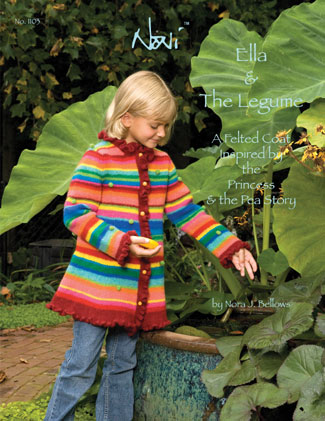 The children's pattern is just as charming with the bobbles and striping.  Nora herself says it was inspired by the story of the Princess and the Pea.  We think it's the perfect amount of girly without being garish.
This coat, unlike the women's size, is felted.  This adds durability and warmth.
And here is the result of the one Sudha made:
The jacket was knit in Stonehedge Fiber Mills Shepherd's Wool. Come welcome spring with this great jacket!
Add comment March 30th, 2012