July 12th, 2011
When I'm at school, I stick to a very simple schedule: mild-mannered University student by day, crime-fighting,  record-spinning, Bollywood-blasting DJ by night.  That's right, I use my super cool and hip job to play Bollywood music all the time.  At school I get teased about my addiction to the sequin city, but I have no regrets; there's nothing quite like the throbbing rhythms and liquid bass of a good item number. There is such a range to Bollywood – from the classic black-and-white pictures, to the Dirty Harry-esque Amitabh Bachchan 70s, to the big-haired and Madhuri Dixit dancing 90s, to the Karan Johar-driven 2000s – and it's all completely glamorous.  And while the hype around Slumdog Millionaire has dissipated, I know you still love the golds and reds and greens of the Indian Subcontinent.  Believe me, it's a love that never really goes away.
Occasionally, when I'm sitting down for a long (and boring) knitting project, usually accompanied by basic yarns or neutral colors, I wish I was working with something intricate and bright.  You know, something rani-esque, like a sari or a headscarf or something else exciting and exotic.  My mother has an entire closet of saris, all hung up, color-coded, and cared-for.  When I was a kid, I loved running my hands over the beadwork, so minute and exact it didn't seem human-made.  And, even now, at the age of 20, I still love opening her closet to see the lines of magentas, deep greens, striking yellows, and grapey purples.  Saris are always  richly colored and  dripping in beading, sequins, ribbons, or embroidery.  To me, there is no disconnect between my mom's closet full of saris and the shining, smiling, singing world of Bollywood – everything is full of color.  It's enough to make me throw my half-made scarf to the side and long for (like Simran for her Raj) a project that's challenging and exotic, something that makes me think of monsoons, mangoes, and dance sequences.
And if you're like me (intrepid, creative, dazzlingly beautiful, etc.), you'll be interested to know that Nine Rubies has you and your Bollywood fantasies covered!  Below are some of my favorite sari-esque yarns and Indian-ish patterns:
Artyarns Mohair Splash – Red with Gold
This stuff is so pretty!  With it's silk-mohair blend, sprinkled with gold sequins and beads, this yarn is absolutely perfect for the Bollywood-inspired knitter.  It's warm and soft and shiny – what else could a Bollywood dreamer ask for?
Tilli Tomas Disco Lights – Jade
The yarn here is completely silk in a gorgeous dark green-blue color.  The sequins are tiny and frequent, catching the light in way reminiscent of the tiny mirrors sewn on to Indian dresses.  Jade is easy to work with as the recommended needle size is #7 – so this is definitely for the knitter looking for quicker project gratification.
Lemon Squeezy Silk Wrap - by Haley Waxberg
This wrap can be easily done in sari silk yarns or colorful silk blends.  With simple stitches and construction that shows of a variety of colors, it screams "filmi!"
Tilli Tomas Disco Lights – Coral Sap
I adore these colors!  So happy and cheerful, they remind me the dresses my baby cousins would wear at Indian weddings.  This yarn, with its silk make, is great for the high-quality knit, and the pretty orange and pink combination makes it perfect for child knits.
Artyarns Mohair Splash – Burnt Orange with Gold
Like its sister, Artyarns Mohair Splash Red and Gold, Burnt Orange and Gold is gorgeous (must run in the family)!  Also invoking South Asian visions of sunsets on the Ganges, this yarn is India incarnate.  It's a silk-mohair blend, and the beads and sequins add a very pretty shine.
Rani Wristwarmers by Katherine Matthews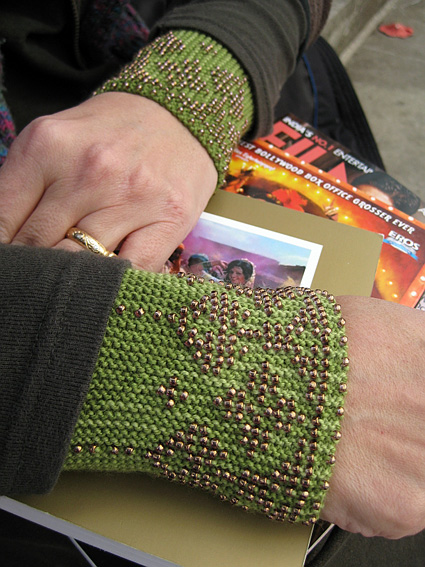 Actually inspired by Hindi cinema, Rani is a gorgeous pattern with in-built sari-esque beadwork and shine.  These would be the perfect compliment for an evening gown or for a touch of extra glitz during the day.
Tilli Tomas Disco Lights – Atmosphere
So elegant and soft, this is exactly the type of color the heroine would wear to an upscale party.  I love the silk, and the sequins are small and complimentary.  So shiny.
Artyarns Mohair Splash – Emerald City with Silver
Traditional Indian designs are chock-full of greens.  So, here's my favorite sari silk yarn in green!  Just like the other two Mohair Splashes, this one is a silk and mohair blend with beads and sequins – this time in silver.  This jewel color is perfect for darker skin tones and the silver in the yarn picks up light well.
Gypsy's Shoulder Bag by Stephanie Shiman
Whenever I visit India, I always pick up a few recycled sari bags.  I wear them with everything and I usually get my fair share of compliments for them.  This pattern is reminiscent of those bags – a must have for every honorary Desi.
For the knitter who wants a little less busyness in her work, this silk Noro color combination will give you the rich sari dyes and shine without the sequins or beads.  I love the blend of greens and reds – almost traditional Indian.
I hope this helps!  And to get you in the mood: Laung da Lashkara
- Nadya the Intern
Entry Filed under: Written by Nadya,Yarns